Happy Meatless Monday! (And a happy belated 4th of July for all you Americans out there) This weekend has brought me to a new stage in my life, one that is overly stuffed on delicious pot-luck goodness and let me say, I'm so not complaining.
We had a little BBQ on Saturday and it went well (outside of on minor skull injury, a few scraped knees, asthma treatment and some glorious drama) - but the food! A little bit of curry, some wonderful grape leaves, an Asian inspired chickpea cabbage salad and even tofu salad sandwiches. (I ate so many left overs today I feel sick... that was before the dinner I prepared of tofu dogs - on whole wheat vegan buns with spicy mustard, mayo and a pickle spear - a side salad and a big old pile of french fries. Then for dessert - because today screamed dessert to me - I made this Apple Crisp and it was so freaking good it is the recipe I'm using for this post.)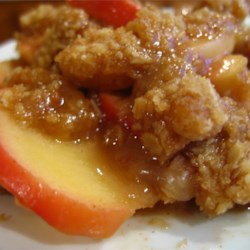 Apple Crisp
(adjusted to fit my life style by me, but the recipe is
from here
.)
This, sadly, is going to be another short post for I am tired and ready for sleep! Tomorrow is a new day and I'm going to try to write my butt off this week so I need to catch my zzzz's so I can do just that. I've fallen behind on my writing schedule - hence the massive neglect of this lovely, lovely blog - but in do time I will be back.
My creative juices have been on high this past week so I've sketched out a few more book ideas plus worked on this one here and there, just when I can. Moving between writing long hand (which is suicidal because my handwriting is terrible), to working on my laptop, desk top and my phone - I want this darn thing done yesterday so I can get started on the editing and rewrite.
Now, I have a question for you, my beautiful readers. I was nosing around on the old internet earlier trying to find an editing service (that I can afford) and I was wondering if anyone had suggestions (or wanted to edit my book for free, or a smile. Nothing beats a good smile.) Any help would be greatly appreciate.
That said, I'm off to sleep! I hope you had a wonderful and fun weekend and I wish you a wonderful week. And if you're in my area, I hope to god you have A/C because it's supposed to be in the 90's tomorrow....
Good night!